AOK50-SS304 Product Description
How AODD Pump (Air Operated Double Diaphragm Pumps) Work?
AODD pumps are driven by compressed air. Air enters the air valve which will allow pressurized pneumatic air into one of the two chambers. As the air enters and fills the chamber on the left the flexible diaphragm expands and compresses the fluid on that side of the diaphragm. This effectively forces the upper valve to open, releasing the fluid into the discharge pipe system. At the same time, the discharge chamber is pumping liquid out of the pump, the opposite diaphragm is pulled in toward the center housing by the drive shaft. Negative pressure is generated in that fluid chamber lifting the lower valve which draws fluid into this chamber, this is the "suction chamber" at this point of the pumping cycle.
As soon as this "suction chamber" diaphragm makes contact, the air pilot pin is forced across the center housing, air exhausts to atmosphere from the discharge chamber, at the same time compressed air enters the "suction chamber" and the pumping action is reversed. The vacuum side becomes the pressure side and vis versa. This action results in something similar to a pump switching between compression and exhaust circulation, first from one side and then from the other.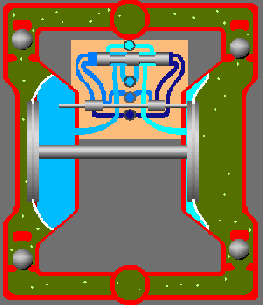 Structure of Diaphragm Pump: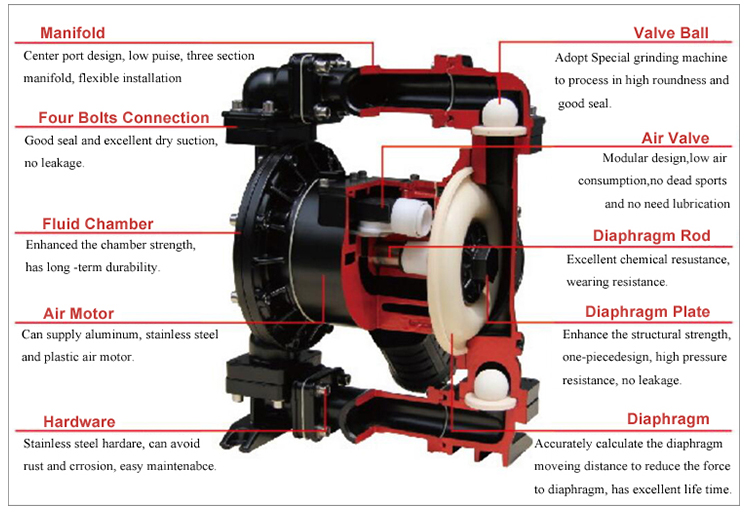 Main Applications of Air Diaphragm Pump
Shipping Industry:
-Pumping a variety of sewage, oil for oil tankers, barges, etc.
Paint Industry:
-Pumping a variety of paints, resin, etc.
Mining Industry:
-After oil well drilling, pumping sediment, pumping water or mud out of mines, trenches, and tunnels, mineral processing, slag, cement grout, mortar, etc
Environmental Protection & Wastewater Treatment Industry:
-Pumping a variety of sewage, mud, and slurry. AOK air operated diaphragm pump also can be matched with plate-and-frame filter press for sewage treatment.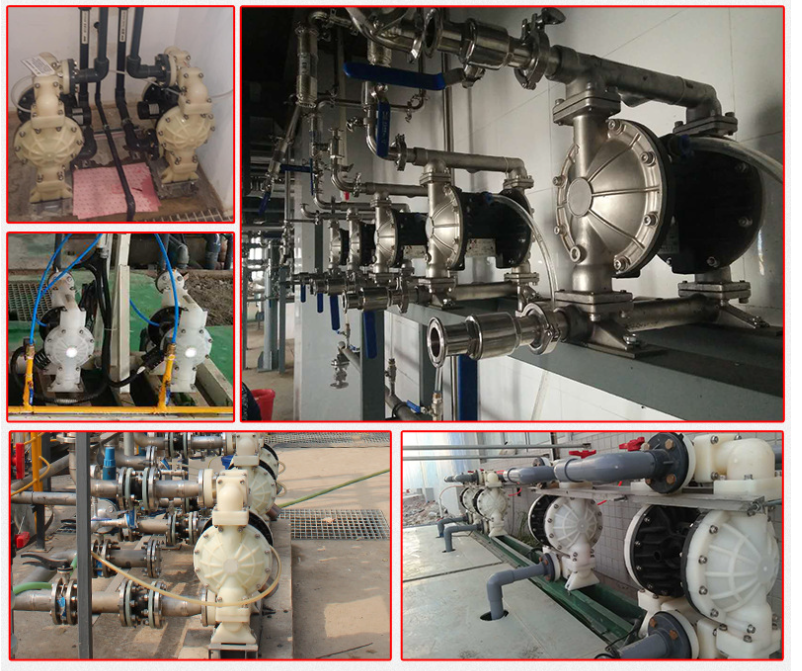 Hot SS304 Air-Operated Pump AOK50:
Model

AOK50

Inlet/ Outlet size

mm

50

inch

2

Flow Rate

m3/h

35.22

L/min

587

Head (m)

84

Suction Stroke (m)

8

Max. Particle Diameter (mm)

6

Max.Air Pressure (kg/cm²)

8.4

Max.Air Consumption (m³/min)

2.8
Performance Curve: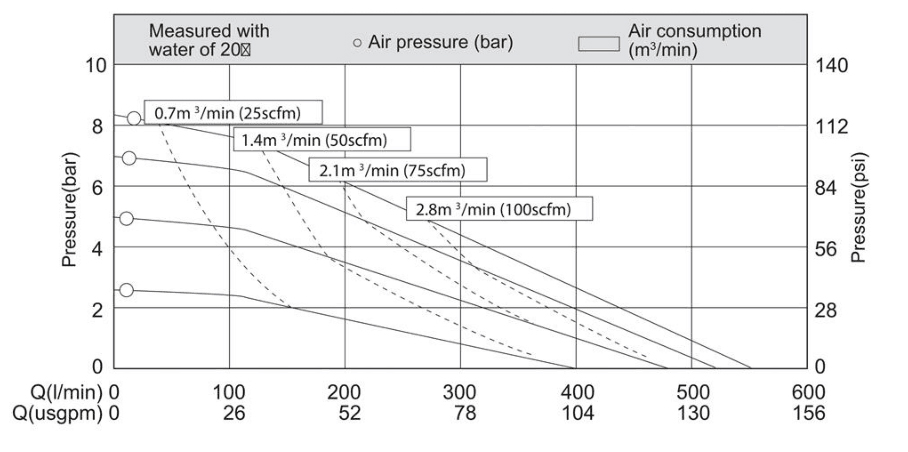 Installation Size: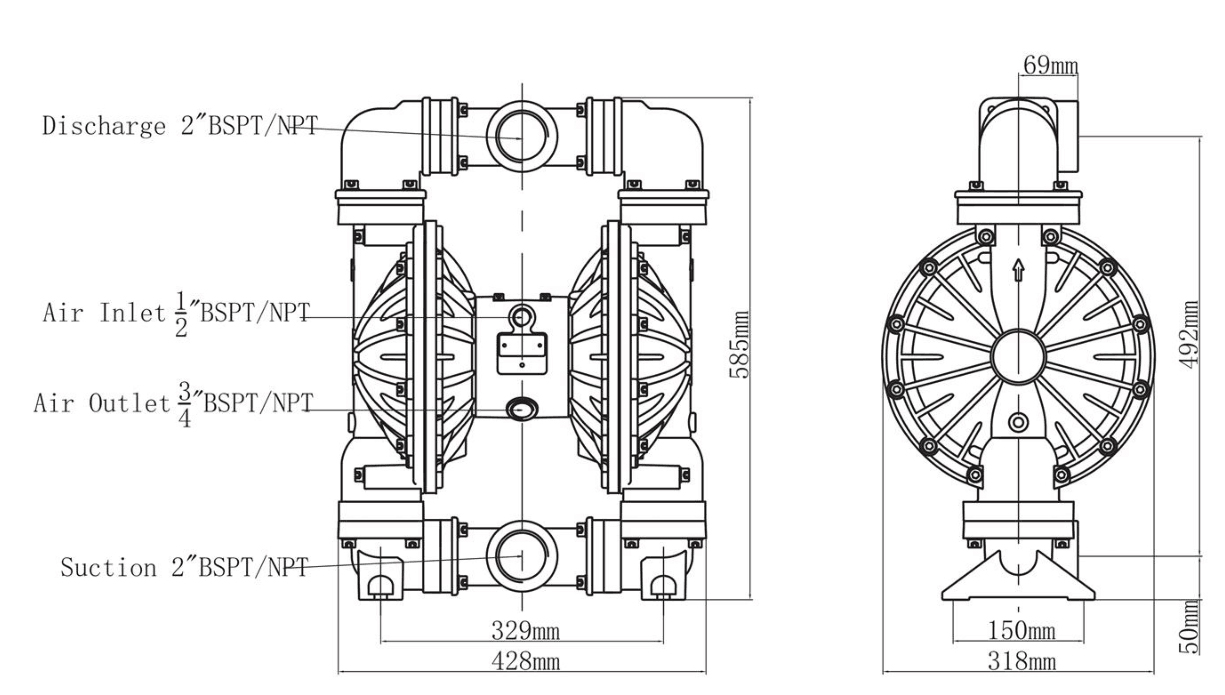 Typical Installation Guide: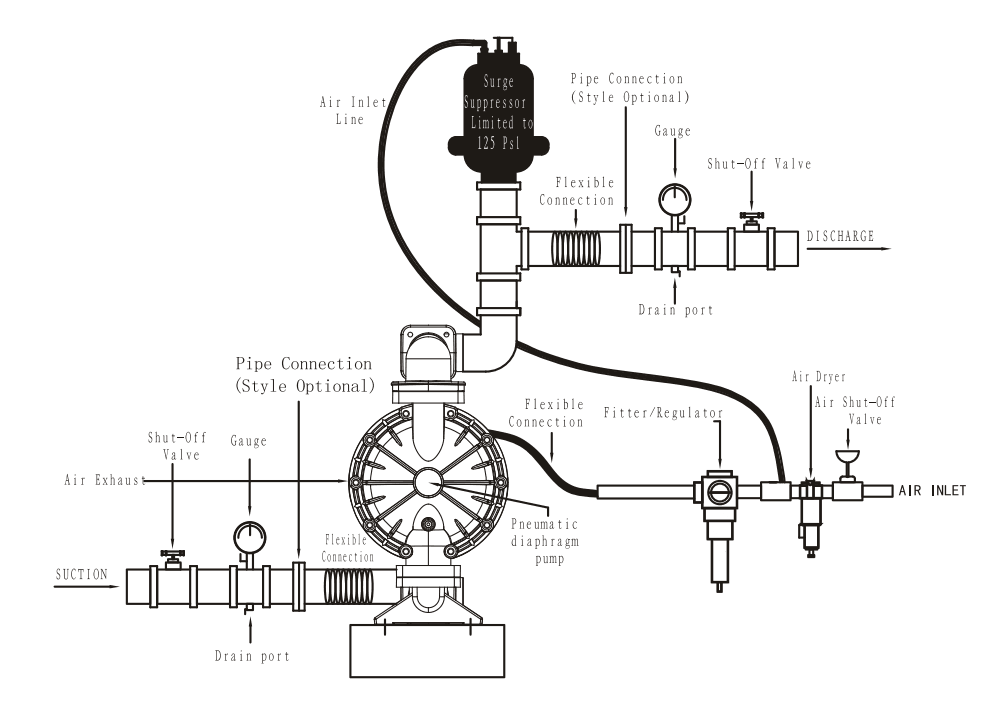 More Options ( Parameters Table):
Model

Flow

(m³/h)

Head

(m)

Suction Stroke(m)

Max.Particle Dia. (mm)

Max. Air Pressure (kg/cm²)

Max.Air Consumption (m³/min)

AOK06/10

0-1.62

0-70

6.4

1.6

7

0.14

AOK-15

0-3.42

0-84

7.6

2.5

8.4

0.56

AOK-25

0-9.42

0-84

8

4

8.4

1.12

AOK-40

0-21.48

0-84

8

5

8.4

2.24

AOK-50

0-35.22

0-84

8

6

8.4

2.8

AOK-80

0-63.6

0-84

8

9.4

8.4

9.8