AOK50-AL Product Description
---
Air-Operated Double-Diaphragm (AODD) pumps are classified as reciprocating, positive-displacement-style pumps. They operate by displacing fluid from one of its two liquid chambers upon each stroke completion. To operate, the AODD pumps require a given amount of pressure (measured in pounds per square inch) and air volume (measured in cubic feet per minute) to deliver the proper amount of fluid. AOK50 Aluminum pumps achieve flow rates of up to 587 LPM(2586GPM) and offer a wide array of material and porting configurations. These pumps are often used for transfer, filling, recirculation and batching in Ceramic, Paint, Oil & Gas, Chemical and Petrochemical markets.
Hot Aluminum AODD Pump AOK50:
Model

AOK50-AL

Inlet/ Outlet size

mm

50

inch

2

Flow Rate

m3/h

35.22

L/min

587

Head (m)

84

Suction Stroke (m)

8

Max. Particle Diameter (mm)

6

Max.Air Pressure (kg/cm²)

8.4

Max.Air Consumption (m³/min)

2.8
Performance Curve: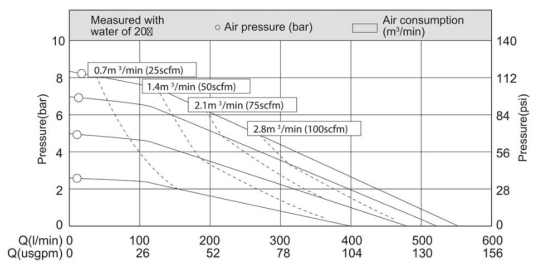 Installation Size: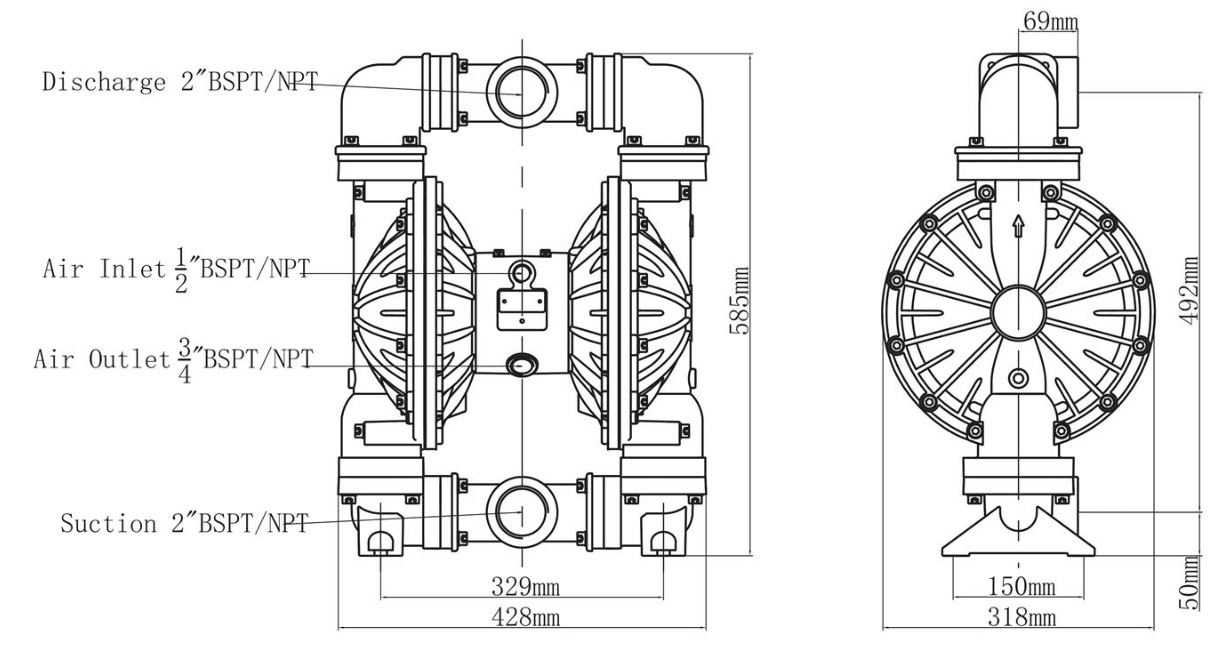 Diaphragm Pump Key Features:
•Idling ,Self-priming , Submerse capability.
•Sensors and stroke counters are available
•Provide stall-free, ice-free zero leak operation.
•Epoxy-coated air section for tough environmental conditions.
•Low shear force , not easy to damage the material structure.
•Bolt joint design provides even sealing pressure for optimal performance
•Modular air valve, low pulsation operation, providing smooth and rapid changeover.
•No electricity . It's safe and reliable while using in the flammable and explore place .
•Diversity of material, no rotating parts, applicable to various erosive situations.
•Can pump corrosive , volatile, flammable, poisonous fluids with particles and high •viscosity.
•Delivery lift and flow can pass the pneumatic valve open to realize the stepless adjustment.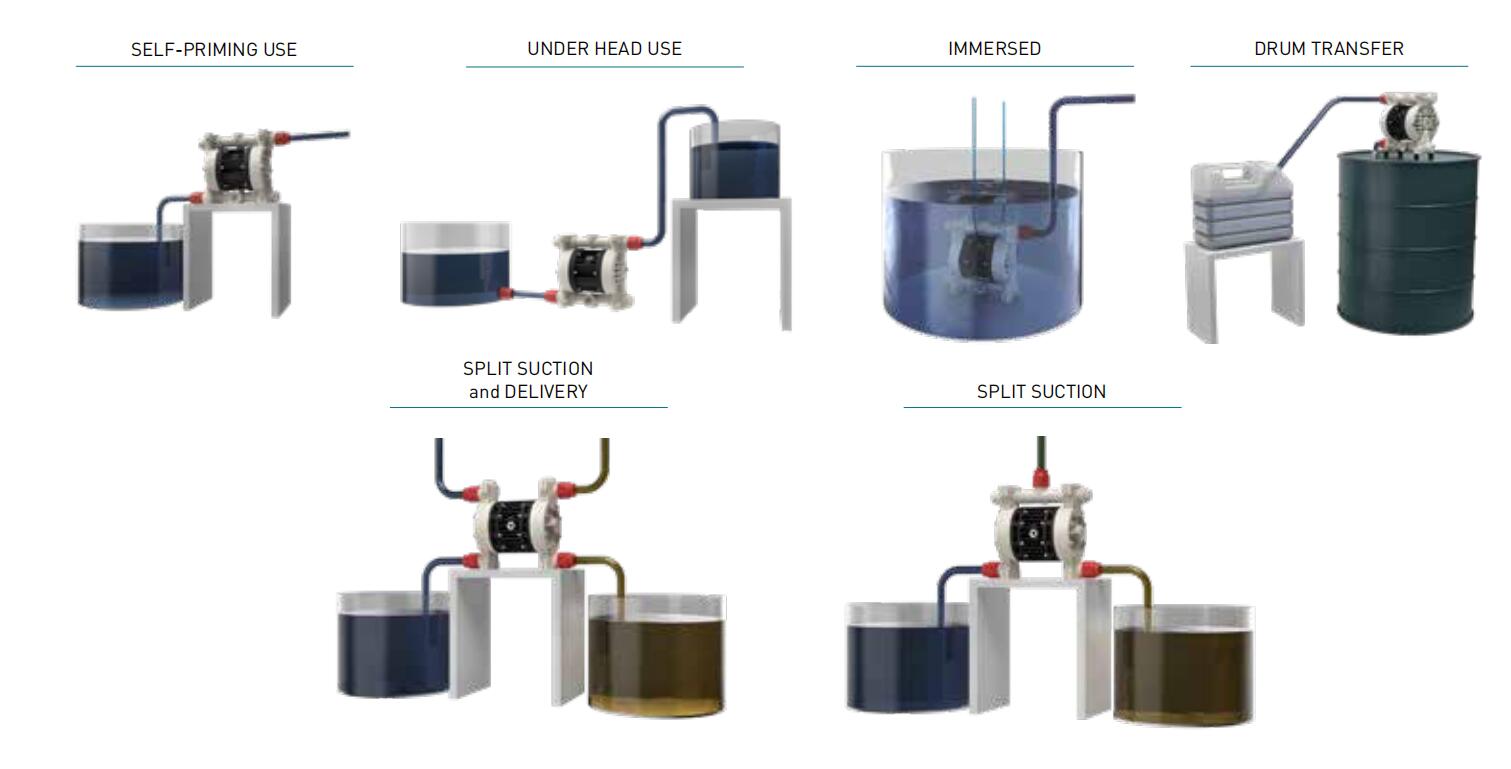 Raw Materials of AODD Pump: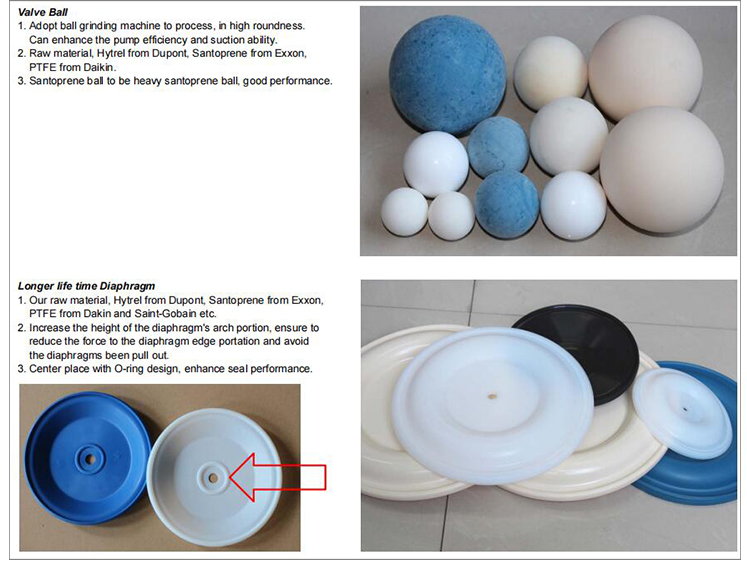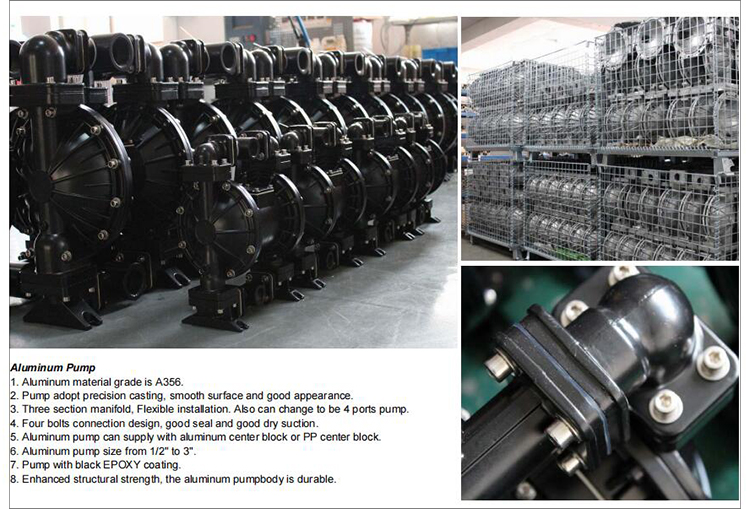 More Options ( Parameters Table):
Model

Flow

(m³/h)

Head

(m)

Suction Stroke(m)

Max.Particle Dia. (mm)

Max. Air Pressure (kg/cm²)

Max.Air Consumption (m³/min)

AOK06/10

0-1.62

0-70

6.4

1.6

7

0.14

AOK-15

0-3.42

0-84

7.6

2.5

8.4

0.56

AOK-25

0-9.42

0-84

8

4

8.4

1.12

AOK-40

0-21.48

0-84

8

5

8.4

2.24

AOK-50

0-35.22

0-84

8

6

8.4

2.8

AOK-80

0-63.6

0-84

8

9.4

8.4

9.8