AOK15-PVDF Product Description
---
PVDF pneumatic diaphragm pump is suitable for transporting strong acid and strong alkaline liquids with high requirements. PVDF pneumatic diaphragm pump has good chemical stability, excellent chemical resistance and good heat stability. It is the material of choice for diaphragm pumps in some chemical industry, bio-pharmaceutical industry, sewage pharmaceutical production and other industries.
PVDF Air Operated Diaphragm Pump Features:
1- Wear resistance, high mechanical strength and toughness.
2- Good heat resistance and high dielectric strength.
3- Small size, light weight, easy to move and carry.
4- Can run empty, no danger.
5- It has good chemical stability, excellent chemical resistance, and good heat stability.
6- No complicated control system, no cables, fuses, etc.
7- The flow can be adjusted, and a throttle valve can be installed at the material outlet to adjust the flow.
8- Explosion-proof, pneumatic diaphragm pump does not use electricity as power, after grounding will not produce electric spark.
Application:
1- The pump can deliver peanut butter, mashed tomatoes, mashed potatoes, jam, chocolate, as well as syrup and molasses, etc.
2- oil paint, gum, pigment, coating, Various adhesives and glues, etc.
3- various kind of glaze slip for tile, porcelain, brick and pottery.
4- Various emulsions and stuffing.
5- Various highly toxic, flammable and volatile liquids.
6- Various highly acidic, basic and corrosive medium.
7- The transportation of high temperature liquid, The maximum liquid temperature can be 150℃.
8- AOK air operated diaphragm pump can be matched with plate-and-frame filter press for sewage treatment.
HOT PVDF AODD Pump AOK15:
Model

AOK15

Inlet/ Outlet size

mm

15

inch

1/2

Flow Rate

m3/h

3.42

L/min

57

Head (m)

84

Max. Suction Lift (m)

7.6m (wet) ;4m(dry)

Max. Particle Diameter (mm)

2.5

Max. Air Pressure (kg/cm²)

8.4

Max. Air Consumption (m³/min)

0.56

Diaphragm Material

Teflon, Santoprene, Viton, Buna-N etc
Performance curve: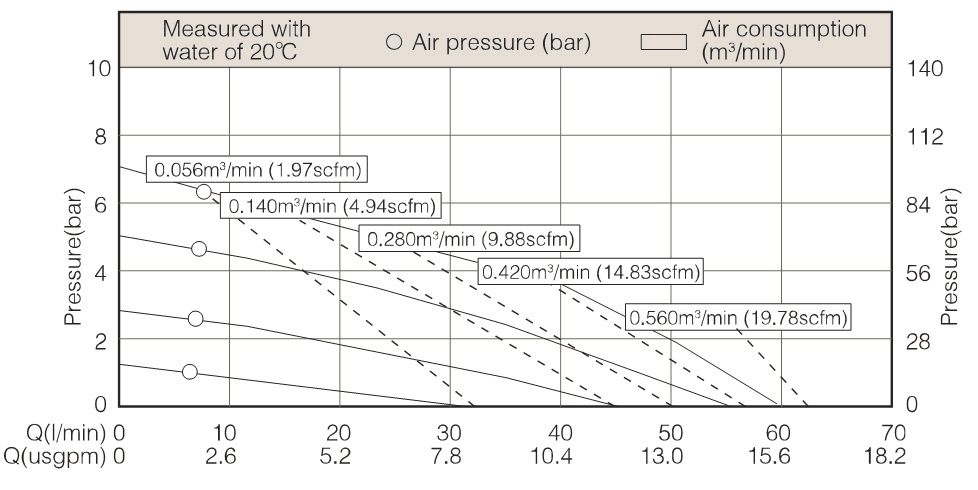 Installation size: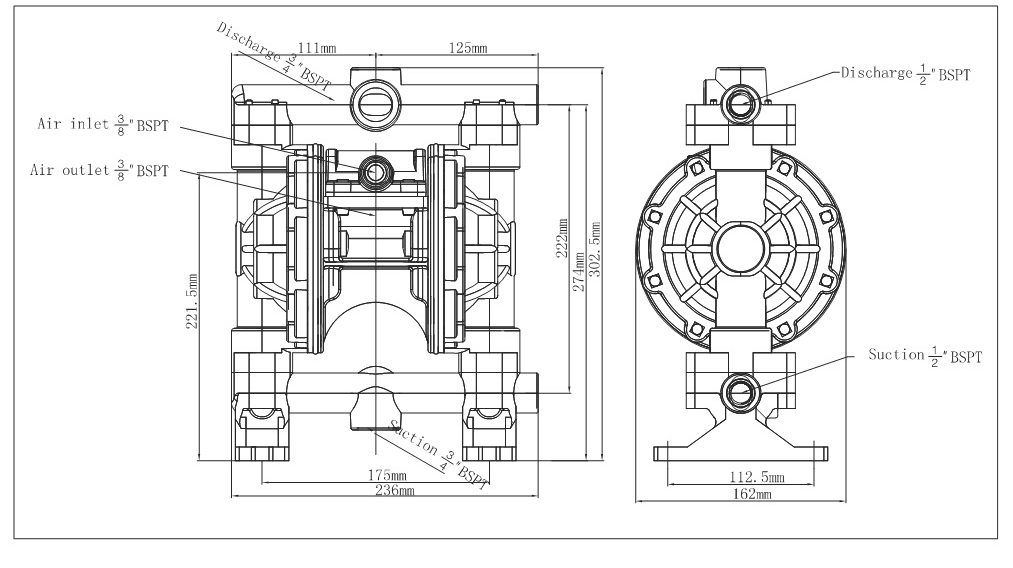 Installation Guide: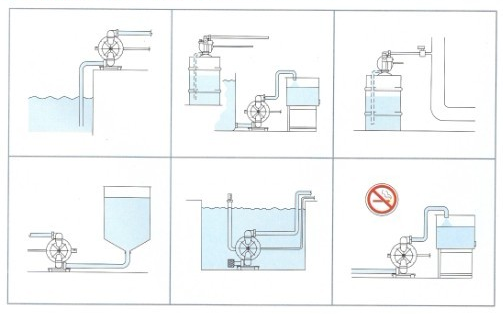 More Options ( Parameters Table):
Model

Flow

(m³/h)

Head

(m)

Suction Stroke(m)

Max.Particle Dia. (mm)

Max. Air Pressure (kg/cm²)

Max.Air Consumption (m³/min)

AOK06/10

0-1.62

0-70

6.4

1.6

7

0.14

AOK-15

0-3.42

0-84

7.6

2.5

8.4

0.56

AOK-25

0-9.42

0-84

8

4

8.4

1.12

AOK-40

0-21.48

0-84

8

5

8.4

2.24

AOK-50

0-35.22

0-84

8

6

8.4

2.8

AOK-80

0-63.6

0-84

8

9.4

8.4

9.8