AOK25-LL316 Product Description:
---
LL316 stainless steel has added molybdenum element to SS304 stainless steel, which can significantly improve its corrosion resistance, oxidation resistance and reduce the hot cracking tendency during welding. There is also good resistance to chloride corrosion. AOK25-LL316 stainless steel pneumatic diaphragm pump It is often used in pure water, distilled water, medicine, sauce, vinegar and other occasions with high hygiene requirements and strong medium corrosion performance.
Technical Parameters:
Self-Priming Dry: 4 m
Self-Priming Wet: 8 m
Max Particle Diameter: 4mm
Suction and Discharge Size: 1inch (25 mm)
Air Inlet Size: 1/2 inch
Max Flow: 157 L/min (9.42m3/h)
Max Head: 84 m
Max Air Inlet Presure: 8.4 bar
Material Quality:
Type: AOK25 Stainless Steel Air Operated Diaphragm Pump
Pump Body: SS304, LL316
Diaphragm: Teflon, Viton, Santoprene, Banu-N,EPDM, etc.
Valve ball: Santoprene, Hytrel, Teflon, Viton, Stainless steel, etc.
Valve seat: Santoprene, Hytrel, Teflon, Viton, Stainless steel.
Center block: Polypropylene, Aluminum, Stainless steel.
Chemical corrosion comparison table: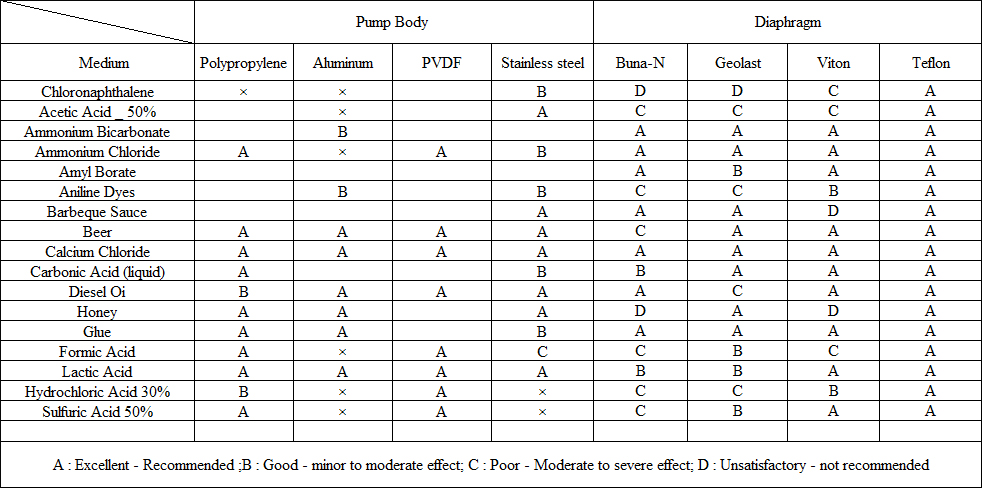 More Options ( Parameters Table):
Model

Flow

(m³/h)

Head

(m)

Suction Stroke(m)

Max.Particle Dia. (mm)

Max. Air Pressure (kg/cm²)

Max.Air Consumption (m³/min)

AOK06/10

0-1.62

0-70

6.4

1.6

7

0.14

AOK-15

0-3.42

0-84

7.6

2.5

8.4

0.56

AOK-25

0-9.42

0-84

8

4

8.4

1.12

AOK-40

0-21.48

0-84

8

5

8.4

2.24

AOK-50

0-35.22

0-84

8

6

8.4

2.8

AOK-80

0-63.6

0-84

8

9.4

8.4

9.8
Performance curve: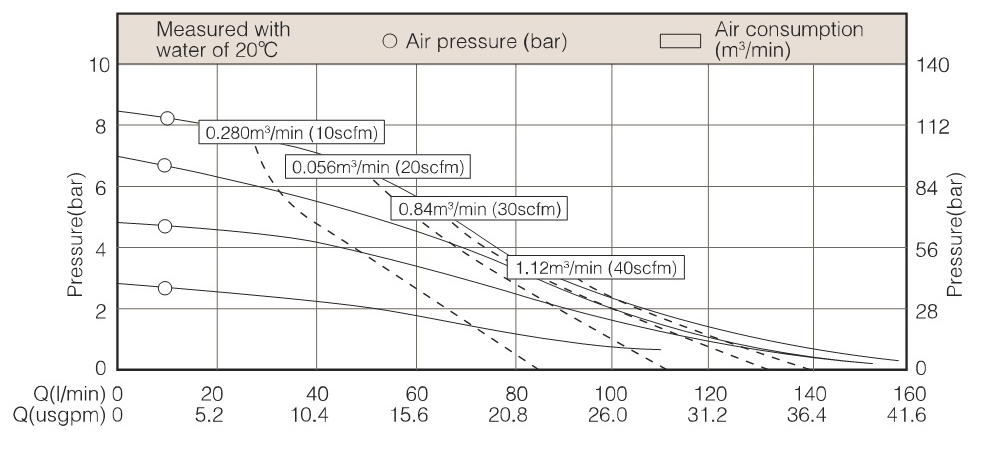 Installation Size: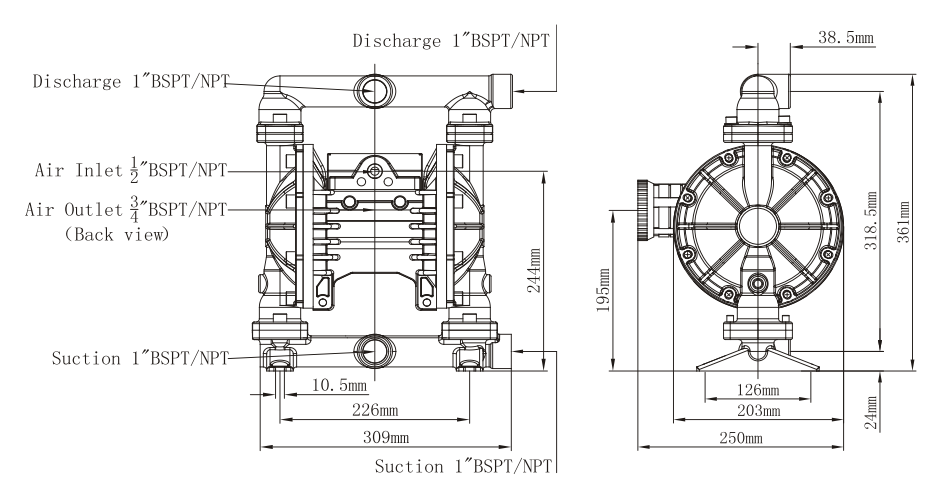 Applications:
1-Beverage industry: liquor, beer, red wine, juice, milk, jam, soda, cola, ice cream, etc.
2-Food industry: yeast, sausage stuffing, cheese, dough, mashed potatoes, starch, etc.
3-Pharmaceutical industry: ointment, glucose, oral liquid, plasma, etc.
4-Condiment industry: soy sauce, vinegar, chili sauce, mustard, etc.
5-Daily chemical industry: perfume, shampoo, shower gel, lotion, toothpaste, hair gel, soap, etc.