AOK06/10-LL316 product description:
AOK06/10-LL316 Food sanitary stainless steel pneumatic diaphragm pump has the characteristics of corrosion resistance, wear resistance, low temperature resistance, oxidation resistance, no lead, no rust, no oil, easy to clean, easy to maintain and so on. It is widely used in industry and furniture decoration industry and food and medical industry.
Applications:
| | |
| --- | --- |
| Pharmaceutical industry | Glucose, oral liquid, ointment, alcohol, plasma, etc. |
| Wine industry | Liquor, red wine, beer, etc. |
| Daily chemical industry | Perfume, shower gel, shampoo, lotion, toothpaste, detergent, soap, etc. |
| Meat industry | Sausage stuffing, braised meat sauce, broth, etc. |
| Dairy industry | Condensed milk, cow milk, butter, milk ice cream, cheese, lactose, etc. |
| Condiment industry | Soy sauce, vinegar, oil consumption, chili sauce, mustard, etc. |
| Baking industry | Pastries, breads, biscuits, tarts, chocolate sauce, etc. |
| Beverage industry | Fruit juice, jam, milk, cola, etc. |
| Food additives industry | Preservatives, emulsifiers, thickeners, colorants, sweeteners, leavening agents, etc. |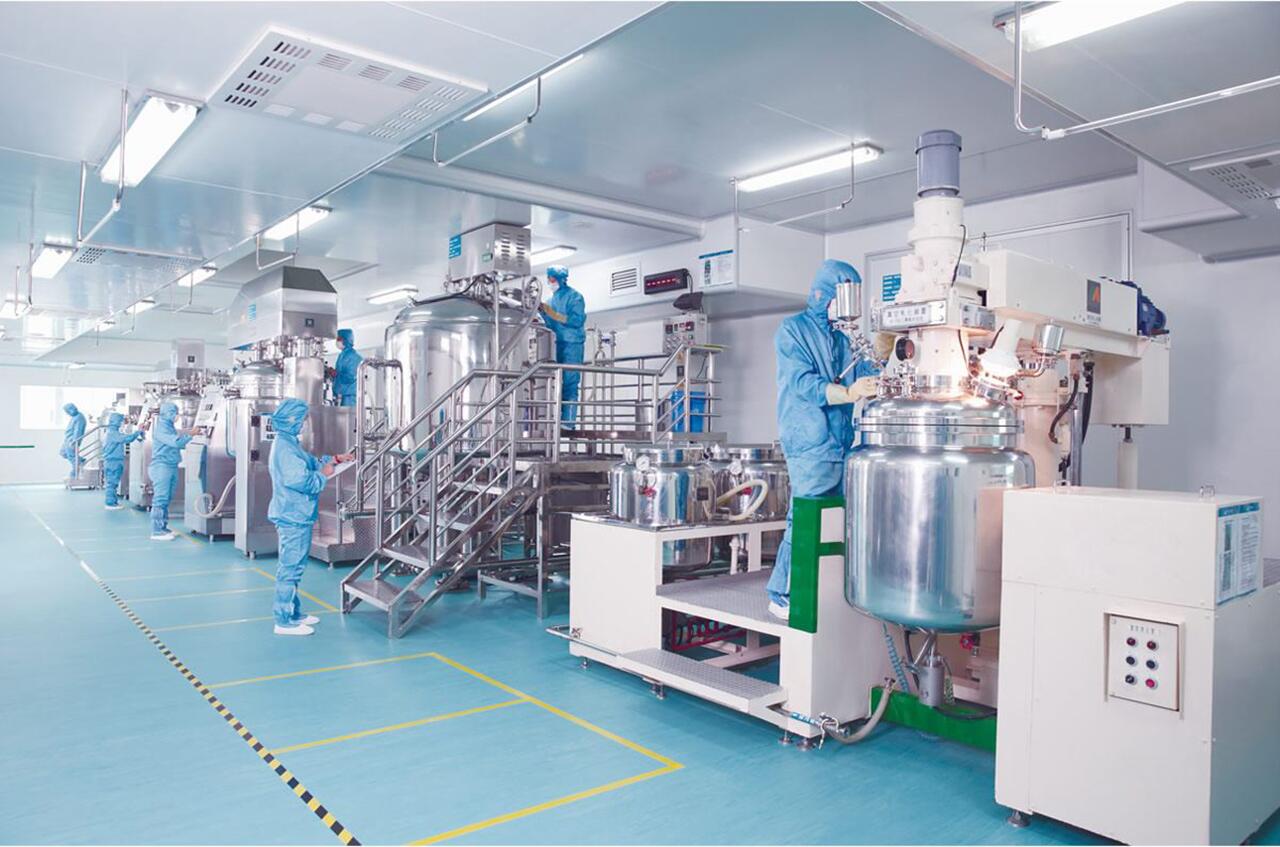 AOK06/10 LL316 Performance Parameter:
Model

AOK06/10

Inlet/ Outlet size

mm

6/10

inch

1/4 or 3/8

Flow Rate

m3/h

1.62

L/min

27

Head (m)

70

Suction Stroke (m)

6.4

Max. Particle Diameter (mm)

1.6

Max.Air Pressure (kg/cm²)

7

Max.Air Consumption (m³/min)

0.14

Diaphragm

Teflon,Hytrel, Viton, Santoprene, Banu-N, etc.

Check Valve

PP, PVDF, POM

Center block

PP
Performance curve: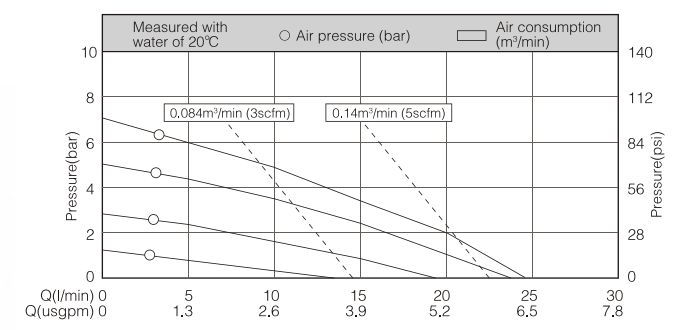 Installation size: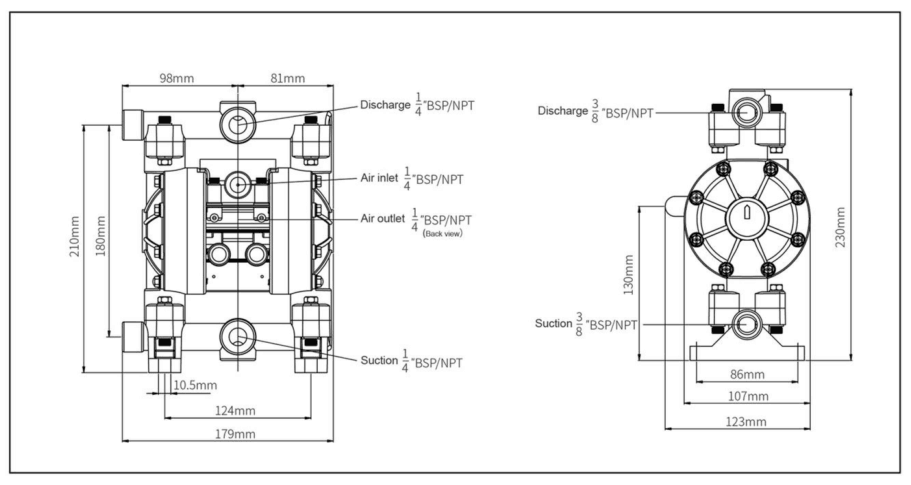 Working Principle:
When air pressure is applied to the pump, the main air valve moves up and down. When the main air valve is in the down position, air pressure is diverted to the right diaphragm. At the same time, exhaust air from the left diaphragm passes through the shuttle and shuttle plate, and exits the rear of the pump. When the main air valve is in the up position, air pressure is diverted to the left diaphragm while the right diaphragm is exhausted. This process constantly alternates between the up and down position to create a continuous cycle.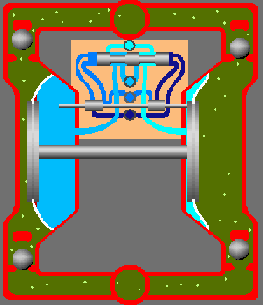 Installation diagram: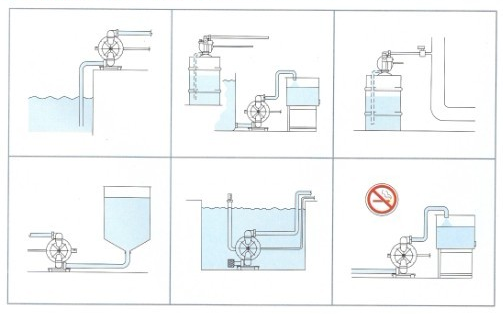 Material Table
(More pumping medium pls contact us to confirm the suitable material)
Item

Pump Body

Diaphragm

Medium

Polypropylene

Aluminum

PVDF

Stainless Steel

Buna-N

Geolast

Viton

Teflon

Chloronaphthalene

×

×

 

B

D

D

C

A

Acetic Acid _ 50%

 

×

 

A

C

C

C

A

Ammonium Bicarbonate

 

B

 

 

A

A

A

A

Ammonium Chloride

A

×

A

B

A

A

A

A

Amyl Borate

 

 

 

 

A

B

A

A

Aniline Dyes

 

B

 

B

C

C

B

A

Barbeque Sauce

 

 

 

A

A

A

D

A

Beer

A

A

A

A

C

A

A

A

Calcium Chloride

A

A

A

A

A

A

A

A

Carbonic Acid (liquid)

A

 

 

B

B

A

A

A

Diesel Oil

B

A

A

A

A

C

A

A

Honey

A

A

 

A

D

A

D

A

Glue

A

A

 

B

A

A

A

A

Formic Acid

A

×

A

C

C

B

C

A

Lactic Acid

A

A

A

A

B

B

A

A

Hydrochloric Acid 30%

B

×

A

×

C

C

B

A

Sulfuric Acid 50%

A

×

A

×

C

B

A

A

A : Excellent - Recommended ;B : Good - minor to moderate effect; C : Poor - Moderate to severe effect; D : Unsatisfactory - not recommended