AOK50-PVDF Product Description
---
PVDF pneumatic diaphragm pump is suitable for transporting strong acid and strong alkaline liquids with high requirements. PVDF pneumatic diaphragm pump has good chemical stability, excellent chemical resistance and good heat stability. It is the material of choice for diaphragm pumps in some chemical industry, bio-pharmaceutical industry, sewage pharmaceutical production and other industries.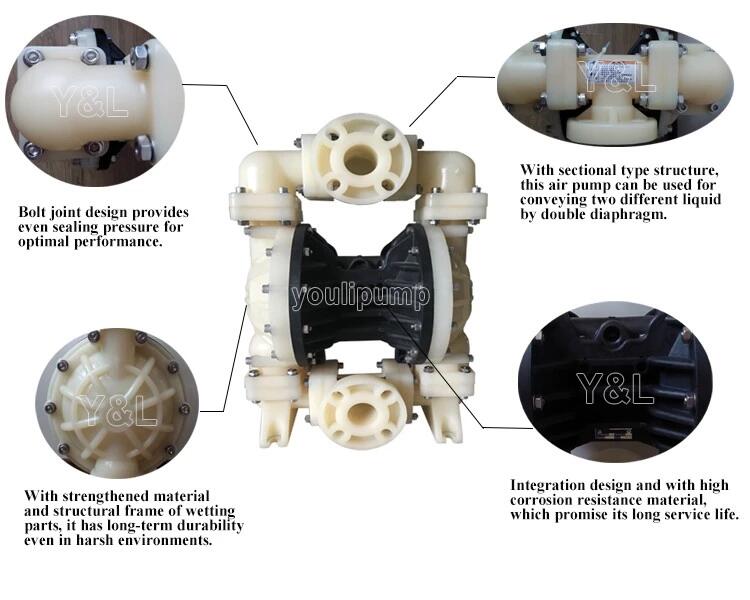 What Should I Check When Looking For A Pump?
When check the suitable pump for your specific needs, there are many things you need to consider. Your prime concern will be choosing an adequate pump to meet the needs of your specific system. Applications range from small business use to large industrial applications. The typical inlet/outlet size range for air operated diaphragm pumps is one-fourth inch to 3 inch. Max. flow reach to 1060L/min. When choosing the pump, you should consider:
What is the specific pumping medium? Acid or oil or…?
Is there any solids for your liquid?
How much viscosity and temperature of the pumping liquid?
How much flow rate u need?
Which sizes of pump u need?
Do you need to submerge the pump?
What is your budget?
Tell us your requirements to make best solutions for your needs.
What Are the Air Operated Diaphragm Pump Features ?
1- Wear resistance, high mechanical strength and toughness.
2- Good heat resistance and high dielectric strength.
3- Small size, light weight, easy to move and carry.
4- Can run empty, no danger.
5- It has good chemical stability, excellent chemical resistance, and good heat stability.
6- No complicated control system, no cables, fuses, etc.
7- The flow can be adjusted, and a throttle valve can be installed at the material outlet to adjust the flow.
8- Explosion-proof, pneumatic diaphragm pump does not use electricity as power, after grounding will not produce electric spark.
Who Uses Them?
Industry: acid, alkali, solvent, suspended solids, decentralized system.
Petrochemical industry: crude oil, heavy oil, grease, mud, mud, etc.
Chemical industry: detergent, shampoo, lotion, cream, hand cream, surfactant.
Ceramics, mud, ceramic slurry, lime, clay slurry.
Mining, coal slurry, magma, mud, mortar, powder slurry, lubricating oil etc.
Water treatment: lime, soft sediment, sewage, chemicals, waste water.
Industry: liquid and solid, chocolate, salt, vinegar, sugar, vegetable oil, soybean oil, honey, animal blood.
Beverage: yeast, syrup, the mixture of gas and liquid, wine, fruit juice, etc.
Paper industry: binder, resin, paint, printing ink, paint, hydrogen peroxide, etc.
Electronics: solvents, plating solution, cleaning fluid, sulfuric acid, nitric acid, waste acid, polishing liquid, corrosive acid.
Textile: dye chemicals, resins, rubber, etc.
Construction: cement, ceramic tile adhesive, rock slurry, ceiling, paint, etc.
Hot PVDF Pneumatic Pump AOK50:
Model

AOK50

Inlet/ Outlet size

mm

50

inch

2

Flow Rate

m3/h

35.22

L/min

587

Head (m)

84

Suction Stroke (m)

8

Max. Particle Diameter (mm)

6

Max.Air Pressure (kg/cm²)

8.4

Max.Air Consumption (m³/min)

2.8
Performance Curve: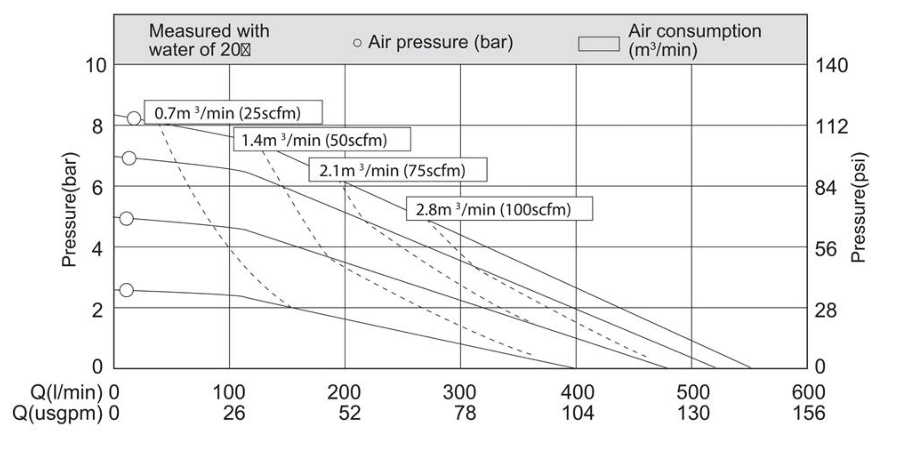 Installation Size: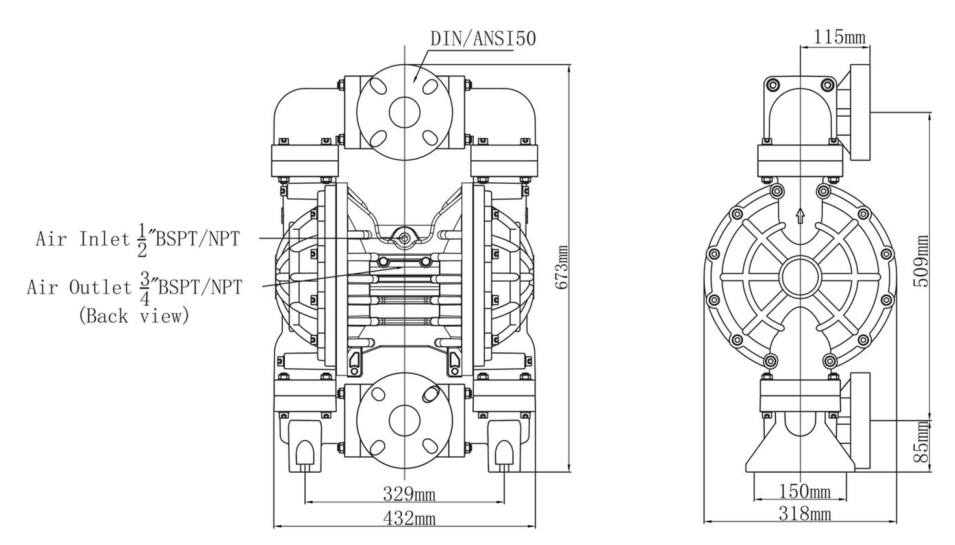 Installation Guide: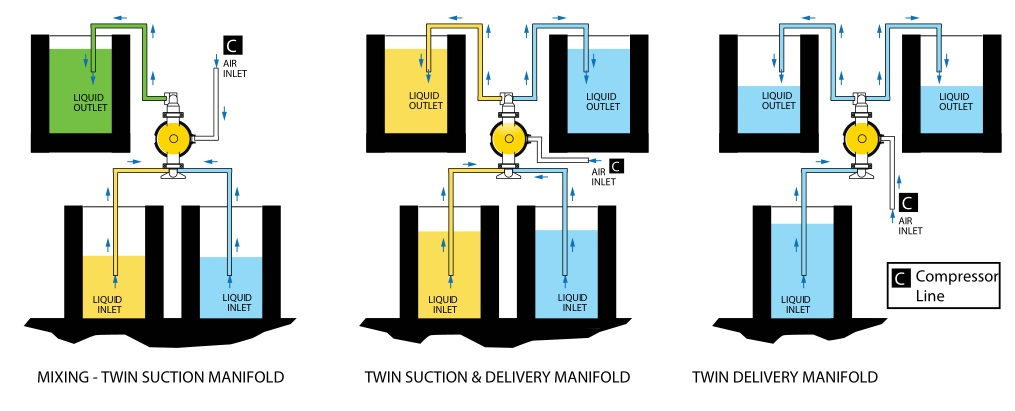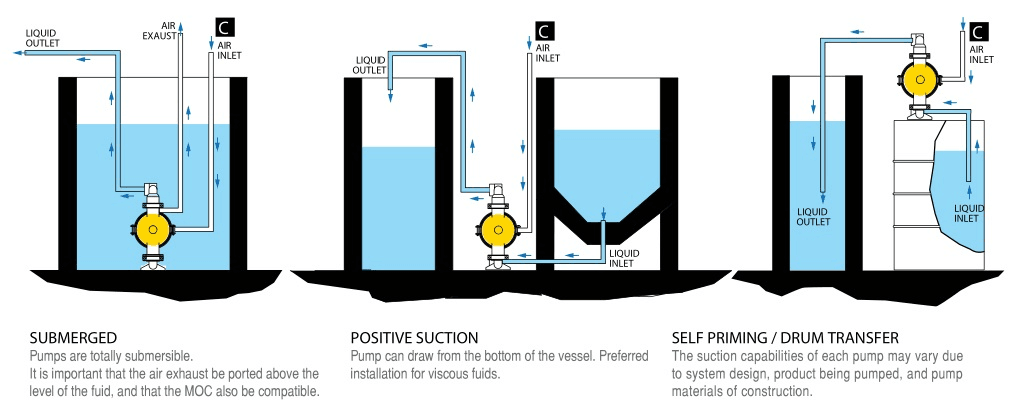 More Options ( Parameters Table):
Model

Flow

(m³/h)

Head

(m)

Suction Stroke(m)

Max.Particle Dia. (mm)

Max. Air Pressure (kg/cm²)

Max.Air Consumption (m³/min)

AOK06/10

0-1.62

0-70

6.4

1.6

7

0.14

AOK-15

0-3.42

0-84

7.6

2.5

8.4

0.56

AOK-25

0-9.42

0-84

8

4

8.4

1.12

AOK-40

0-21.48

0-84

8

5

8.4

2.24

AOK-50

0-35.22

0-84

8

6

8.4

2.8

AOK-80

0-63.6

0-84

8

9.4

8.4

9.8