AOK40-316 Product Description:
---
AOK series pump is an air operated double diaphragm pump, which is driven by air. It is a kind of positive displacement pumps which volume changes caused by compressing diaphragms in both side. This pump not only can exhaust the flow liquid, but also can convey some uneasy flowed medium, with the merits of self priming pump, slurry pump and impurity pump, etc.
AODD Pump Key Features:
·Run Dry
·Self Priming Function
·High Pressure to 8.4bar
·Temperature to 176℃
Application:
1.The pump can suck the peanut, pickles, tomato slurry, red sausage, chocolate, hops and syrup etc.
2. The pump can suck the paint, pigment, glue and adhesive etc.
3.The pump can suck various glazed slurries of tile, porcelain, brick and chinaware etc.
4. The pump can suck various grinding materials, corrosive agent and clean the oil dirt etc.
5. The pump can suck various toxin and flammable or volatility liquid etc.
6. The pump can suck various wedge water, cement slurry and mortar etc.
7. The pump can suck various strong acid, alkali and corrosive liquid etc.
8. It can be used as a front-step transmission device of the solid and liquid separation equipment.
9. Our pump can be used directly as a submersible pump, it uses air as the power source, and does not have the leakage and other security risks. This diaphragm pump has lower cost than submersible pump which is caused by the maintenance of motor.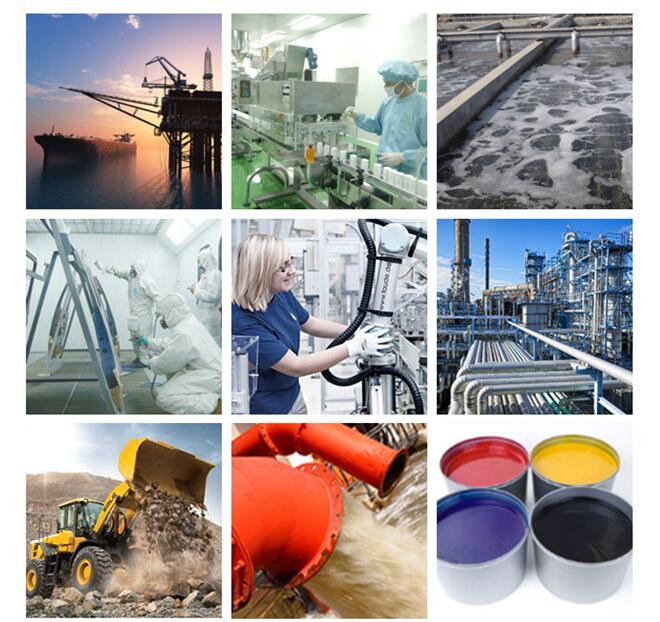 Typical Installation Guide: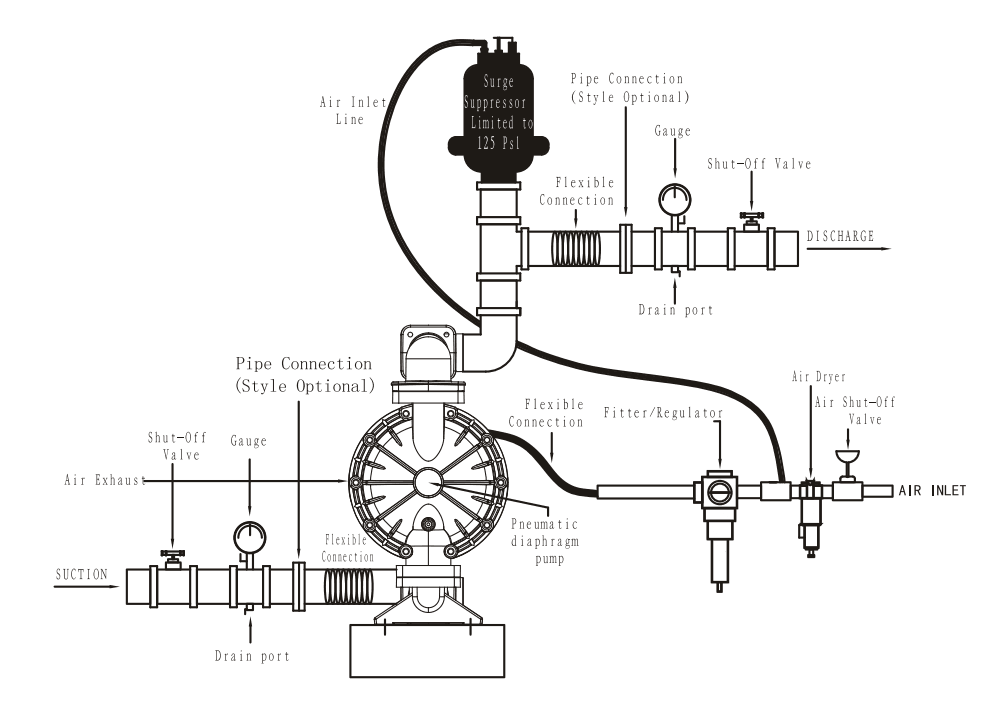 In order to ensure the stability and service life of the pneumatic diaphragm pump, we recommend that install a air/filter regulator at the air inlet of the pneumatic diaphragm pump, which can adjust the air source pressure and filter air impurities and moisture.

Hot SS316 Air Diaphragm Pump AOK40:
Model

AOK40

Inlet/ Outlet size

mm

40

inch

1.5

Flow Rate

m3/h

21.48

L/min

358

Head (m)

84

Suction Stroke (m)

8

Max. Particle Diameter (mm)

5

Max.Air Pressure (kg/cm²)

8.4

Max.Air Consumption (m³/min)

2.24
Performance Curve: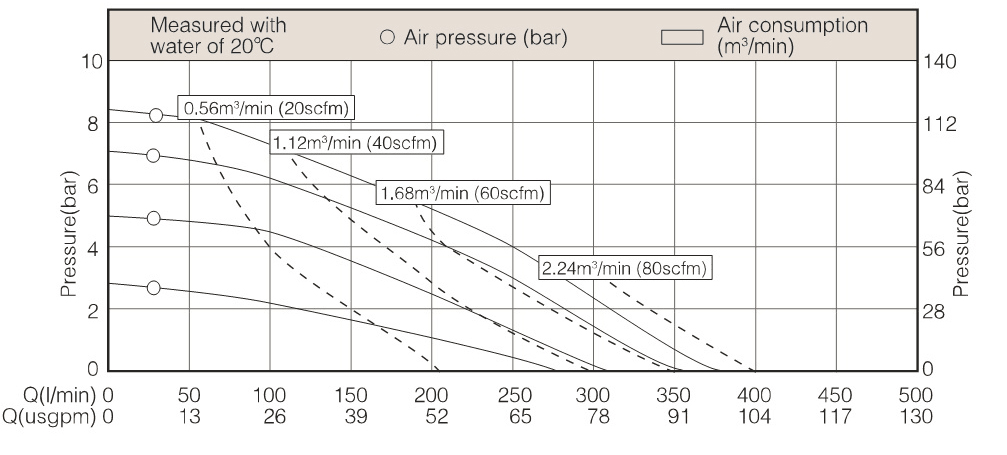 Installation Size: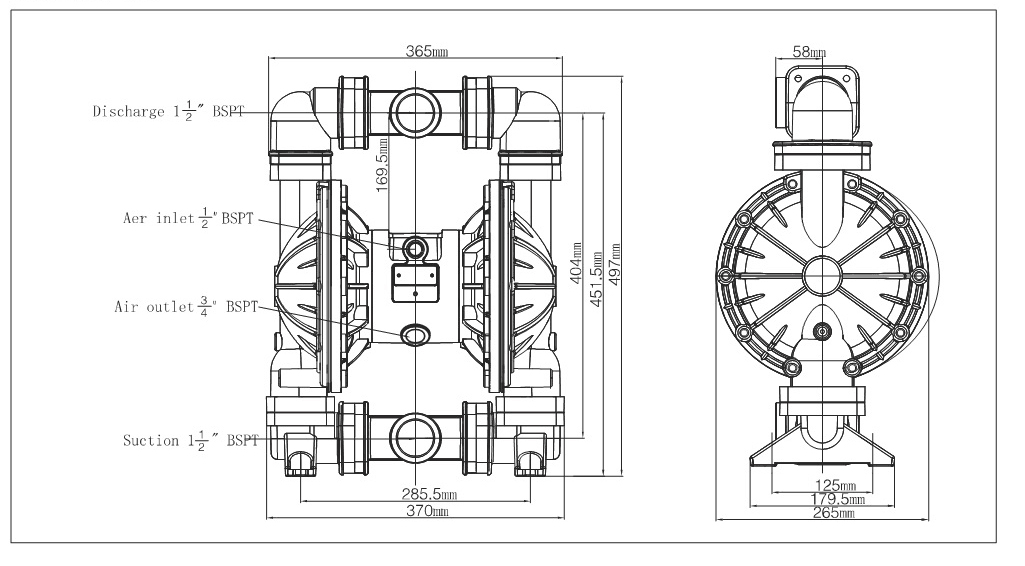 Pump Spare Parts ( More parts pls contact us):
| | | | |
| --- | --- | --- | --- |
| | | | |
| Diaphragms | Diaphragm Plate | Valve Balls | Diaphragm Rod(Shaft) |
More Options ( Parameters Table):
Model

Flow

(m³/h)

Head

(m)

Suction Stroke(m)

Max.Particle Dia. (mm)

Max. Air Pressure (kg/cm²)

Max.Air Consumption (m³/min)

AOK06/10

0-1.62

0-70

6.4

1.6

7

0.14

AOK-15

0-3.42

0-84

7.6

2.5

8.4

0.56

AOK-25

0-9.42

0-84

8

4

8.4

1.12

AOK-40

0-21.48

0-84

8

5

8.4

2.24

AOK-50

0-35.22

0-84

8

6

8.4

2.8

AOK-80

0-63.6

0-84

8

9.4

8.4

9.8