AOK25-SS304 Product Description:
---
AOK25-SS304 stainless steel air operated diaphragm pump has very good stability and safety both in processing and in use. It is the best explosion-proof pump and the first choice for flammable and explosive places.
Technical Parameters:
Self-Priming Dry: 4 m
Self-Priming Wet: 8 m
Max Particle Diameter: 4mm
Suction and Discharge Size: 1inch (25 mm)
Air Inlet Size: 1/2 inch
Max Flow: 157 L/min (9.42m3/h)
Max Head: 84 m
Max Air Inlet Presure: 8.4 bar
Material Quality:
Type: AOK25 Stainless Steel Air Operated Diaphragm Pump
Pump Body: SS304, LL316
Diaphragm: Teflon, Viton, Santoprene, Banu-N,EPDM, etc.
Valve ball: Santoprene, Hytrel, Teflon, Viton, Stainless steel, etc.
Valve seat: Santoprene, Hytrel, Teflon, Viton, Stainless steel.
Center block: Polypropylene, Aluminum, Stainless steel.
Performance curve: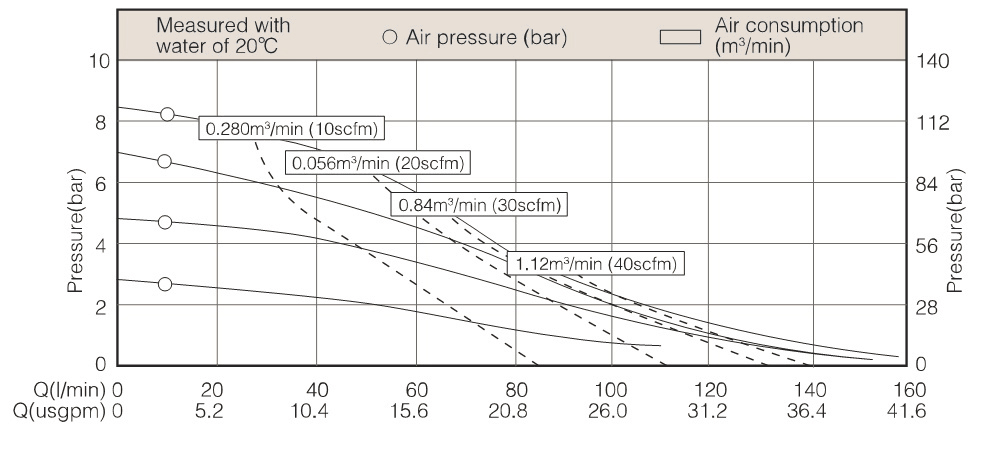 Installation Size: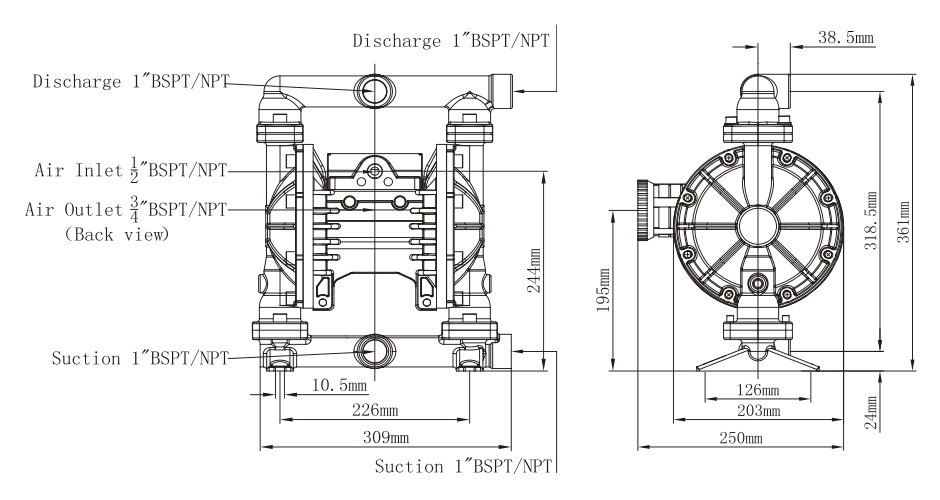 Installation diagram: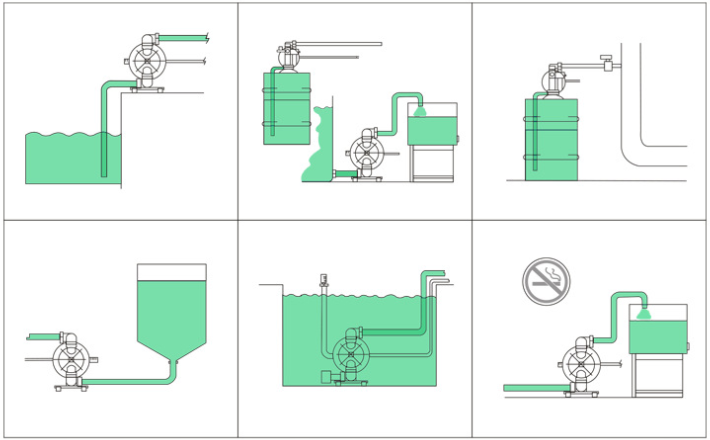 Applications:
1- Food and beverage industry: Liquid semisolid, pickled vegetable, Wine, juice, small sausage, etc.
2- Paint industry: oil paint, pigment, etc.
3- Chemical industry: various kinds of inflammable and explosive liquid, and highly acidic, basic and corrosive medium.
4- Adhesive and glue industry: all the liquids included in the industry are available.
5- Ceramic industry: various kind of glaze slip for tile, porcelain, brick and pottery.
6- Daily chemical industry: detergent, emulsion, hand cream, surface activator, etc.
7- Pharmaceutical industry: solvent, acid, alkali, ointment, plasma and other kinds of drug liquid.
9- Mine industry: transportation of sediment and ponding in mine, adit and tunnel, as well as the cement grouting and mortar, etc.

Details is the key to make good pump performance.
Outlet (discharge) with NPT/BSPT standard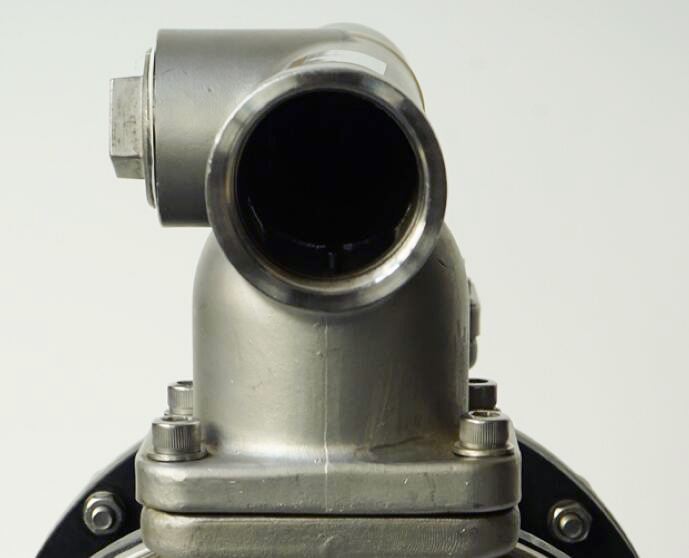 Fluid Chamber: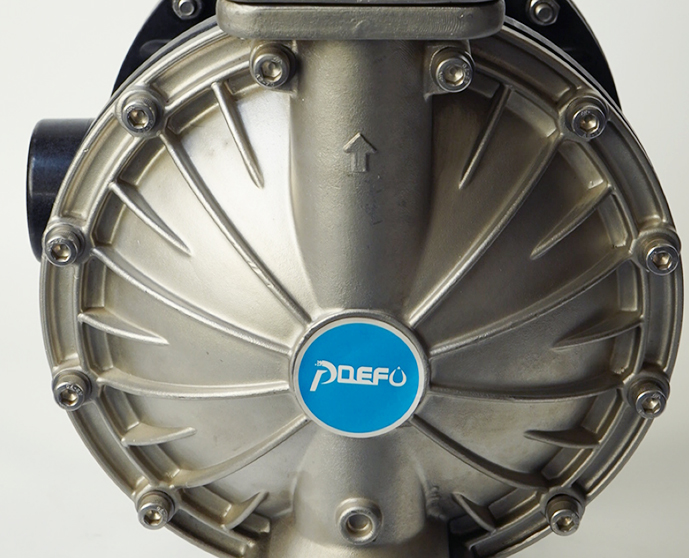 Bottom Elbow- Stable and Smooth: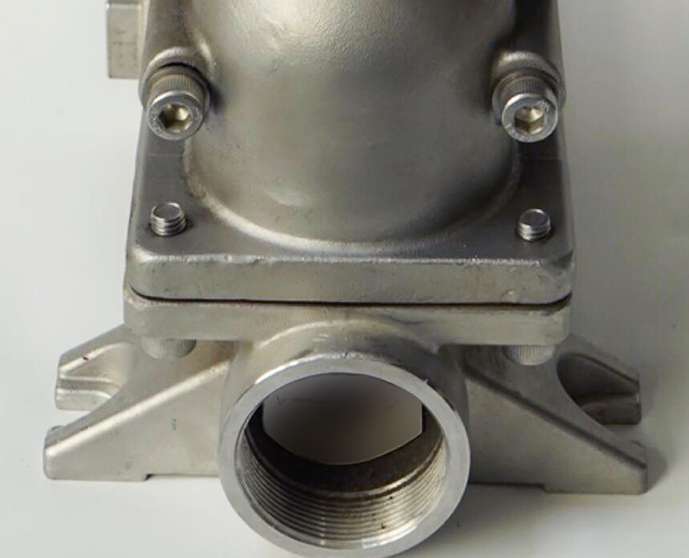 Material Table
(More pumping medium pls contact us to confirm the suitable material)
Item

Pump Body

Diaphragm

Medium

Polypropylene

Aluminum

PVDF

Stainless Steel

Buna-N

Geolast

Viton

Teflon

Chloronaphthalene

×

×

 

B

D

D

C

A

Acetic Acid _ 50%

 

×

 

A

C

C

C

A

Ammonium Bicarbonate

 

B

 

 

A

A

A

A

Ammonium Chloride

A

×

A

B

A

A

A

A

Amyl Borate

 

 

 

 

A

B

A

A

Aniline Dyes

 

B

 

B

C

C

B

A

Barbeque Sauce

 

 

 

A

A

A

D

A

Beer

A

A

A

A

C

A

A

A

Calcium Chloride

A

A

A

A

A

A

A

A

Carbonic Acid (liquid)

A

 

 

B

B

A

A

A

Diesel Oil

B

A

A

A

A

C

A

A

Honey

A

A

 

A

D

A

D

A

Glue

A

A

 

B

A

A

A

A

Formic Acid

A

×

A

C

C

B

C

A

Lactic Acid

A

A

A

A

B

B

A

A

Hydrochloric Acid 30%

B

×

A

×

C

C

B

A

Sulfuric Acid 50%

A

×

A

×

C

B

A

A

A : Excellent - Recommended ;B : Good - minor to moderate effect; C : Poor - Moderate to severe effect; D : Unsatisfactory - not recommended