AOK06/10-PP product description:
---
AOK06/10 is a new type of portable transport machinery, Use compressed air as power source. For a variety of corrosive, high viscosity, flammable and explosive liquids can be used. The air operated diaphragm pump has the function of self-priming without rotating parts, it can achieve dry priming and wet priming.
AOK

06/10

PP

Diaphragm Pump Parameters:
Model

AOK06/10

Inlet/ Outlet size

mm

6/10

inch

1/4 or 3/8

Flow Rate

m3/h

1.62

L/min

27

Head (m)

70

Suction Stroke (m)

6.4

Max. Particle Diameter (mm)

1.6

Max.Air Pressure (kg/cm²)

7

Max.Air Consumption (m³/min)

0.14

Diaphragm

Teflon,Hytrel, Viton, Santoprene, Banu-N, etc.

Check Valve

PP, PVDF, POM

Center block

PP
Performance curve: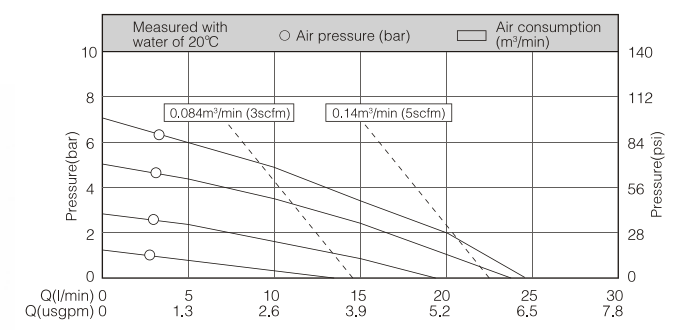 Installation size: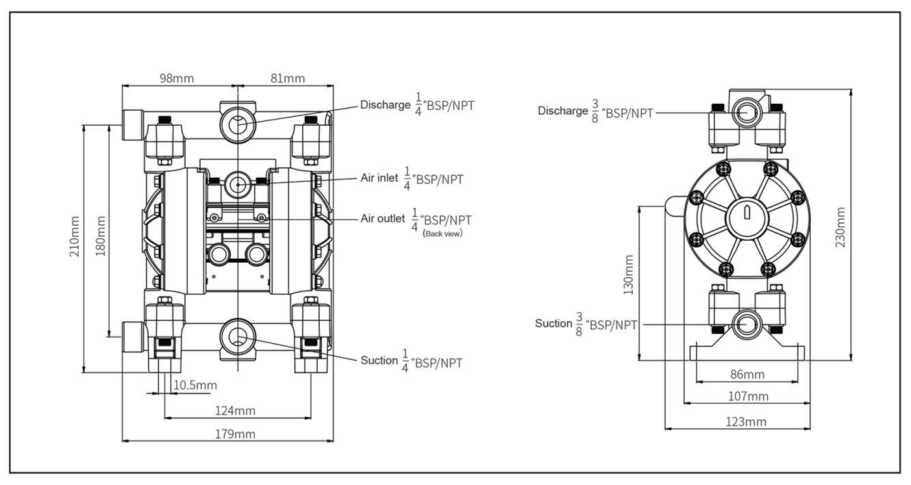 More Options ( Parameters Table):
Model

Flow

(m³/h)

Head

(m)

Suction Stroke(m)

Max.Particle Dia. (mm)

Max. Air Pressure (kg/cm²)

Max.Air Consumption (m³/min)

AOK06/10

0-1.62

0-70

6.4

1.6

7

0.14

AOK-15

0-3.42

0-84

7.6

2.5

8.4

0.56

AOK-25

0-9.42

0-84

8

4

8.4

1.12

AOK-40

0-21.48

0-84

8

5

8.4

2.24

AOK-50

0-35.22

0-84

8

6

8.4

2.8

AOK-80

0-63.6

0-84

8

9.4

8.4

9.8
Applications:
1-Chemical industry: solvents, acids, alkalis, paints, coatings, resins, dyes, inks, detergents, adhesives, etc.
2-Petrochemical industry: crude oil, heavy oil, mud, grease, waste oil, sludge, etc.
3- Ceramic industry: glaze, mud, porcelain slurry, lime slurry, clay slurry, etc.
4-Environmental protection industry: sewage treatment, adding chemicals, soft sediments, chemicals, waste products, etc.
5-Paper industry: paste, borax, caustic soda, ink, pigment, hydrogen peroxide, adhesive, etc.
6-Electronics industry: solvents, electroplating solutions, cleaning solutions, nitric acid, waste acids, corrosive acids, polishing solutions.
7- Daily chemical industry: detergent, lotion, cream, hand cream, etc.
8-Furniture industry: adhesives, varnishes, white wood glue, resins, etc.
9-Construction industry: cement slurry, lime slurry, rock slurry, etc.
10-Automotive industry: polishing emulsion, coolant, automobile primer, oil emulsion, varnish, degreasing liquid, paint, etc.
11-Metallurgy, casting and dyeing industry: metal slurry, hydroxide, carbide slurry, dust washing slurry.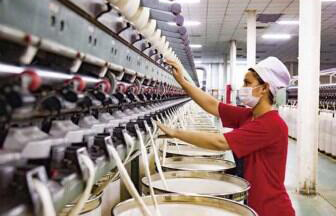 Working Principle:
When air pressure is applied to the pump, the main air valve moves up and down. When the main air valve is in the down position, air pressure is diverted to the right diaphragm. At the same time, exhaust air from the left diaphragm passes through the shuttle and shuttle plate, and exits the rear of the pump. When the main air valve is in the up position, air pressure is diverted to the left diaphragm while the right diaphragm is exhausted. This process constantly alternates between the up and down position to create a continuous cycle.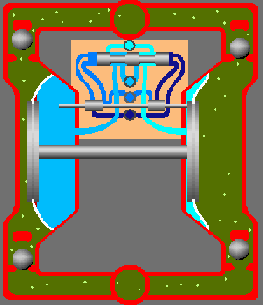 Installation diagram: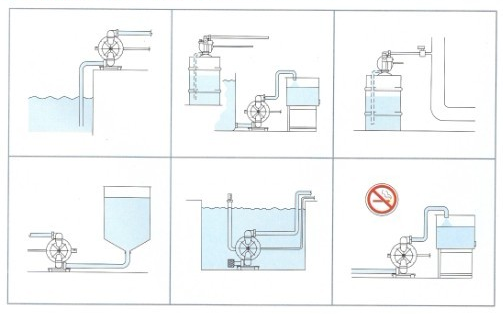 Material Table
(More pumping medium pls contact us to confirm the suitable material)
Item

Pump Body

Diaphragm

Medium

Polypropylene

Aluminum

PVDF

Stainless Steel

Buna-N

Geolast

Viton

Teflon

Chloronaphthalene

×

×

 

B

D

D

C

A

Acetic Acid _ 50%

 

×

 

A

C

C

C

A

Ammonium Bicarbonate

 

B

 

 

A

A

A

A

Ammonium Chloride

A

×

A

B

A

A

A

A

Amyl Borate

 

 

 

 

A

B

A

A

Aniline Dyes

 

B

 

B

C

C

B

A

Barbeque Sauce

 

 

 

A

A

A

D

A

Beer

A

A

A

A

C

A

A

A

Calcium Chloride

A

A

A

A

A

A

A

A

Carbonic Acid (liquid)

A

 

 

B

B

A

A

A

Diesel Oil

B

A

A

A

A

C

A

A

Honey

A

A

 

A

D

A

D

A

Glue

A

A

 

B

A

A

A

A

Formic Acid

A

×

A

C

C

B

C

A

Lactic Acid

A

A

A

A

B

B

A

A

Hydrochloric Acid 30%

B

×

A

×

C

C

B

A

Sulfuric Acid 50%

A

×

A

×

C

B

A

A

A : Excellent - Recommended ;B : Good - minor to moderate effect; C : Poor - Moderate to severe effect; D : Unsatisfactory - not recommended